Baskets and trays are one of the most cost effective ways to organise your home. Their sole purpose is to keep like items together and they do this brilliantly. I always find that items that aren't contained within a basket or tray, generally end up encroaching on the space of other items. Its great for defining spaces as it creates boundaries.
I have baskets and trays all over my house. They range in various sizes and I feel they are one of the main reasons that my house stays so organised. They keep things in place that would otherwise turn into a cluttered mess. And of course I like to add nice labels to complete the look.
So many to choose from.
The stackable ones are my favourite since they really do maximise space, especially on shelves where there is a lot of vertical space wasted.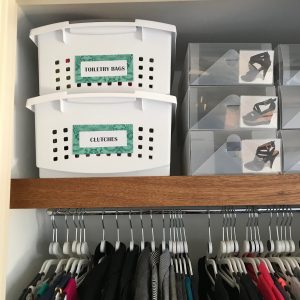 Some are nice and sturdy and if they are deep enough, can almost turn a shelf into a drawer system which always maximises space.
These Elfa Easy Glider baskets are my favourite product to use in pantries and kitchen cupboards, especially the lower shelves which require bending to see what is stored there.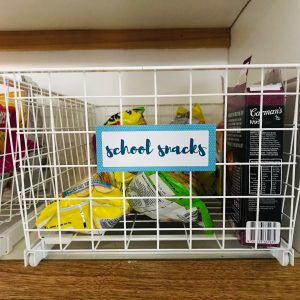 Trays are perfect for drawers or items that require a more shallow depth. Cutlery and utensil drawers are a great example.
And then there are the cheaper options of just the plain plastic, nothing fancy baskets and trays which are still just as suitable. Plus if they are no longer suit the current space then they can be used elsewhere.
So it really depends on your budget but baskets and trays are definitely something worth investing in.
See you next time!
Mei x
For helpful tips, advice, humour and inspiration on getting organised, subscribe to my newsletter or follow me on social media – click on the links below.
Do you use baskets and trays to keep your home organised? Send me a comment as Id love to hear from you 🙂