Do you find yourself running all over the house, in and out of each room a number of times while trying to clean your home? Do you feel like you're getting nowhere… your quick clean has now turned into a whole morning and you still haven't finished?
Then a caddy that keeps all your cloths, wipes, bin bags, cleaning products etc together is just what you need.
Save time.
There is alot of time wasted going backwards and forwards throughout your home. By keeping your items together you can clean in a systemised way which will get the job done alot quicker. Yay!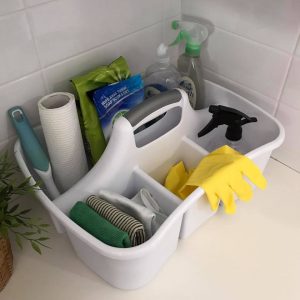 How to effectively use your caddy.
Everything you use should be in your caddy. Mirco fibre cloths, scrubbers, gloves, sprays, detergents, disinfectants, wipes, bin bags for collecting rubbish and emptying bins, squeegee for glass surfaces and whatever else you use.
After you have put away all the clutter in your home, it's time to get started. Carry your caddy firstly throughout your bathrooms and toilets, which require spraying, then leave them to sit while you get onto the next job.
Then take your caddy into the first room to tidy up, dust and wipe down the surfaces. Then continue onto the next room and repeat. Once they are done you can  head back to the bathrooms and toilets to give them a scrub and squeegee with all your cleaning products still at arm's length.
Lastly, you're only left to vacuum the house and mop the floors.
Setting up an easy cleaning routine like this one and having a cleaning caddy to carry your products around is such a simple way to save you time.
See you next time!
Mei x
For helpful tips, advice, humour and inspiration on getting organised, subscribe to my newsletter or follow me on social media – click on the links below.
Do you use a cleaning caddy to clean your home? Send me a comment as I'd love to hear from you 🙂