Do you find that in moments of calm, you totally know what needs to be done and feel like you have it all under control? But all it takes is a little bit of stress and chaos and your whole thought process totally goes out the window… think of your mornings before a busy day. You and your family know what needs to be done but in the rush of it all, something always gets forgotten..
This is where checklists help.
For those tasks that are done on a regular basis, it still doesn't hurt to make a checklist. Kids chores are a perfect example.. and I like to add in the basics as well, such as brushing their teeth – since no matter how many times they are told, they still forget! By laminating these checklists, a dry erase marker can be used to check them off once completed and then wiped clean to start a new day or week.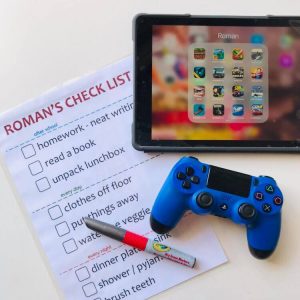 Checklist Examples:
• Party and Event planning would be a lot more stressful if you didn't keep a checklist on the things that need to be ordered or purchased. Not to mention keeping track of invites and RSVP's.
• Cleaning is made a lot simpler by using a checklist of your weekly or monthly routine.
• Kids Chores that need to be done daily or weekly. By enforcing the rule that these items must be done before screen time or play time will hopefully get them done quicker.
• Travel Checklists are handy to avoid forgetting those important items.. like your passport.
• Any project at work or home that requires numerous tasks to be achieved.
Checklists are such a time saver when you are rushed and don't feel like you even have the time to think about what needs to be done next. Plus they help keep you focused on the important tasks and it is incredibly satisfying when, at the end of the day, everything is checked off.
See you next time!
Mei x
For helpful tips, advice, humour and inspiration on getting organised, subscribe to my newsletter or follow me on social media – click on the links below.
Do you follow checklists at home or work? Send me a comment as I'd love to hear from you 🙂