Do you feel like you have run out of storage space at home? Do you feel like your cupboards are at their maximum limit and not another thing can fit in without them bursting? With your cupboards being this full, can you actually find anything that is stored inside?
Going vertical.
Did you know that the space on your doors is one of the best places to store your everyday items?
My go to product is the Elfa Over The Door Rack system which is perfect for internal doors. Even better, it hooks over the door so you don't actually need to attach it permanently in place – although you can if you want to. It's perfect for those renting their home as well. This system is so easy to install and with the various sized baskets being adjustable, it can be tailored to suit all of your needs.
A lot of internal doors have a frame that has a gap of about 10cm so the baskets fit well within this space. For the large basket which requires space of 13.5cm, it just needs to be sitting above the shelf so the door can close.
When I install these systems into my client's homes, I always make sure their everyday items are place in these baskets. It is incredibly convenient to just open the door and everything you need being in plain sight for you to access and put away easily.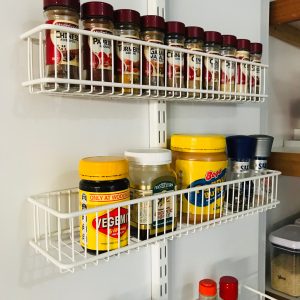 Other products that use vertical space without having to attach fixtures permanently are suction storage products or over the door hooks.
If you like something a little stronger and don't mind a bit of diy.. why not install a shelf or hook system?
The options are endless and these products will help keep your home neat, tidy and well organised.
See you next time!
Mei x
For helpful tips, advice, humour and inspiration on getting organised, subscribe to my newsletter or follow me on social media – click on the links below.
Do you utilise the vertical space in your home? Send me a comment as Id love to hear from you 🙂