Chances are, the people in your home just don't know where things belong. Or you may struggle to actually remember where some things are, especially if they aren't used often. And if you'd spent hours de-cluttering and getting your things stored the way you like but didn't label anything… it can be frustrating when clutter just builds up all over again.
Don't let your storage and organisation efforts go to waste by not using a label.
A Simple Label.
Labels come in lots of different styles. From a beautifully printed sticker to the more simple, masking tape and a pencil. Whatever style works for you!
Once an area is labelled with its contents, it makes finding your things easier and ensures that things will get placed back there.
Even if you have kids that shove things anywhere – if areas are labelled then it makes them so much easier to be put back right. Having them re-sort an entire cupboard may make them think twice about making such a mess in the first place!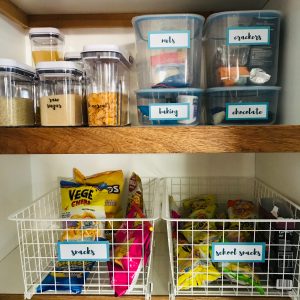 The Benefits Include:
• Defines the area or space
• Makes the area or space look great
• Helps the people in your home know where things belong
• Saves time looking for things that are always misplaced
• Saves money by not having to purchase the same things again because you can't find them
• Less stress by knowing that your things have a place to call home
The areas that benefit from labels the most are pantries, junk drawers, garages, kid's toys and storage areas. Although it probably wouldn't hurt to walk around your home with a label maker!
If your things don't really have a home and seem to be in one place one day and another place the next, then it's definitely time to start making some labels.
See you next time!
Mei x
For helpful tips, advice, humour and inspiration on getting organised, subscribe to my newsletter or follow me on social media – click on the links below.
Do you have your items labelled? Send me a comment as I'd love to hear from you 🙂