Have you ever come home from a trip to the grocery store to find that you have purchased vegetable stock again and you now have 15 litres of it? Or you thought you had coconut milk in your pantry… but you don't. Nobody likes to waste their time or money!
The never ending mess in pantries.
Pantries are one of my most requested areas in the home to get organised. We are continually buying, using and moving the stock in our pantries so I'm not surprised that it gets messy so quickly.
Plus the very impractical shelf depth of 45cm can make it impossible to see all the products you have in there. And don't mention the mess that is made when you try and reach for anything at the very back.
What I use.
My go to product is the Madesmart expandable tiered shelf organiser. This shelf organiser expands up to 66cm to fit your own pantry needs plus it's made with durable plastic and the tiers are lined with a soft grip material to keep your items in place. And at $35.95, it is well worth the investment.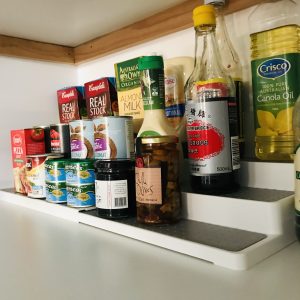 We all have tinned food, bottled sauces, stock, oil and lots of types of jars that keep for a long time. Having a way to organise these well will ensure your pantry stays neat and tidy.
If you find numerous quantities of the same type of food in your pantry then think of the money you will save grocery shopping in the future.
With such a simple way to organise your pantry items, why not spend a little time this weekend getting it done. You will be glad you did.
See you next time!
Mei x
For helpful tips, advice, humour and inspiration on getting organised, subscribe to my newsletter or follow me on social media – click on the links below.
Do you use a tiered shelf organiser in your pantry? Send me a comment as I'd love to hear from you 🙂