Do you prefer to store your household items in drawers? It makes sense since they make great use of space and it's easier to reach things towards the back.
But if you have too many items in there, especially smaller things, then they can soon become junk drawers. And junk tends to breed…
Trays are the simple solution.
While drawers are a great way to store the items in our home, they can also become cluttered and messy from too many items rolling around. Trays make it easy to store your items into categories as well, especially smaller items that easily make a mess. There are many options from whole tray dividers systems to individual trays or my favourite.. trays that interlock together and can be switched around to suit the size of the drawer and your needs. These are from the Madesmart multi pack.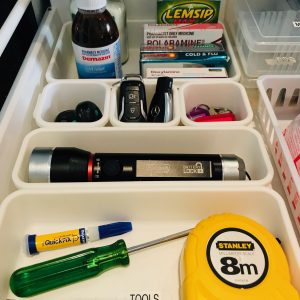 Where to use trays.
Junk drawers are one of the most popular areas that trays are really useful in. Madesmart make an awesome Junk Drawer Organiser with clever compartments and a sliding top level tray to make lower compartments easy to access. This organiser is super useful in stationery drawers too but equally handy storing jewellery or miscellaneous items in your bedroom drawers – like hair accessories which can be a nightmare to store!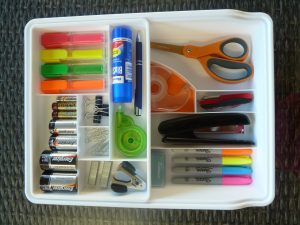 Garage items like nuts, bolts, screws and nails need trays to keep them all together. Utensils and cutlery are a perfect example of how some simple dividable trays keep items in their place, neat and tidy and help you know where to put these items back. Can you imagine the mess they would make if your knives, forks and spoons were left to slide around your drawers with no dividers?
The same concept applies to any drawer in your home. And getting your drawers organised is as simple as starting with one drawer at a time and making sure all your items are contained to their own space. Make sure you de-clutter at the same time!
See you next time!
Mei x
For helpful tips, advice, humour and inspiration on getting organised, subscribe to my newsletter or follow me on social media – click on the links below.
Do you use trays in the drawers in your home? Send me a comment as I'd love to hear from you 🙂