Do you want to live in a more organised home? Or do you feel that a basket here or a hook there will solve your clutter issues? Do you even know that there are storage products available that are super simple to attach and can be repositioned numerous times to suit your needs?
These storage products are not just perfect for those who don't like to DIY, but also those renting their property – where drilling holes in walls and tiles require approvals or professionals which can be time consuming or costly.
My go to product.
The White Hook i-hook storage system uses nano suction material to bind strongly to any smooth, sealed surface. Perfect for tiles or glass in the bathroom to store everything from toothbrushes and toothpaste, shampoo and conditioner bottles or anything.
While I enjoy a DIY project, the thought of drilling through the tiles to attach a permanent fixture is a little daunting. So suction storage is definitely my go to in the bathroom or laundry.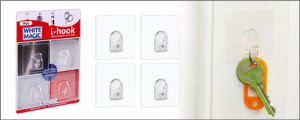 Lots of products to suit your needs.
Storage products like the handy basket are great for the kitchen or laundry for those products that can make cupboards over cluttered. This way you can store your regularly used items in the easiest to reach areas.. and if you find that the position isn't right, then you can remove and replace as required.
Hooks are perfect for items like jewellery or keys. The larger hooks even hold handbags or towels.
Suction storage is so simple to use that anyone can do it and incredibly convenient as it takes no time at all to make your cluttered areas organised.
See you next time!
Mei x
For helpful tips, advice, humour and inspiration on getting organised, subscribe to my newsletter or follow me on social media – click on the links below.
Do you use suction storage products around your home? Send me a comment as I'd love to hear from you 🙂