I just love using pegboards as part of my organising solutions around the home. Most people will only be familiar with their use in the garage for tools. But it's a cheap and effective way to store almost anything in the home as well.
Are you running out of storage space?
The most common ways of storing things in our homes is with drawers and shelves. These can be great providing they aren't too deep for whatever they are storing, otherwise they become a cluttered mess making it hard to see what is inside.
Lets go vertical.
By mounting a pegboard to a wall or door, you can then make use of the vertical space that is being wasted. I have used this method in numerous areas of my home. From hanging jewellery to hats and belts or craft products to stationery items.
My local hardware store has Masonite Pegboard (915x610mm) for $12.56 which makes this storage solution really cost effective. I also buy some timber strips to attach to the edges as the pegboard needs to have clearance at the back so the hooks can be attached properly. This then gets screwed into the door or wall making all your items visible. Or you can make a frame (like I have done below) if you don't want to have to attach it with screws – this is just positioned in between the desk and wall.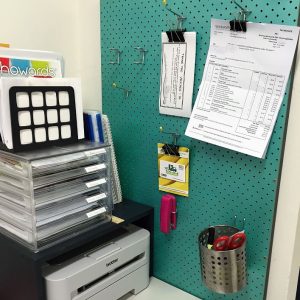 As you can see, I also like to paint my pegboards to pretty them up a bit. The pegboard below was made for my son's bedroom to store his hats and necklaces. It seems a shame to cover the stencilled image!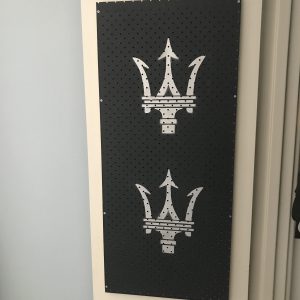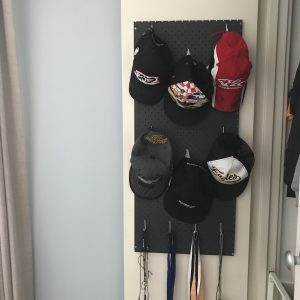 If you love to do a bit of DIY then this is the perfect job for you and one that can easily be completed in an afternoon.
See you next time,
Mei x
For helpful tips, advice, humour and inspiration on getting organised, subscribe to my newsletter or follow me on social media – click the links below.
If you use pegboards in your home then leave a comment as I'd love to hear from you 🙂