Don't let the thought of drilling holes in walls and doors stop you from getting your home organised. Using an over the door hook can help you make use of the wasted vertical space on your doors.
That jacket that gets used daily and always ends up on the floor… Towels in the bathroom that don't have the room to dry out properly… One of my most popular products in my catalogue range (the clever Play Pouch below) once packed up, needs somewhere to hang. These items plus more can benefit from a simple to install over the door hook.
Flexible storage solutions.
Sometimes a well thought out plan of organisation doesn't always turn out that way. Attaching hooks to walls and doors can be a little too permanent for some people. Over the door hooks are the simple solution – plus they are a renters dream.
So many options.
Over the door hooks come in a variety of different types. There are ones that hook onto internal doors and are great for bags, jackets, towels, robes and more. There are ones that are perfect for smaller cabinet doors, some with baskets attached too. Great for kitchens and bathrooms. Then there are the cleverly designed over the door fully racked systems like this one (below) that have versatile moveable baskets. These are popular in pantries, laundries, wardrobes – actually, anywhere that has a standard internal door and is in need of more storage space!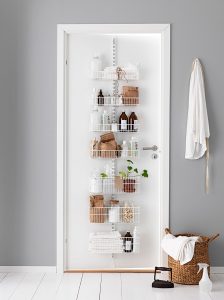 So you don't need to be a seasoned DIY'er to get more storage space. Using an over the door hook is the simple solution you can start using today.
See you next time!
Mei x
For helpful tips, advice, humour and inspiration on getting organised, subscribe to my newsletter or follow me on social media – click on the links below.
Do you use over the door hooks in your home? Send me a comment as I'd love to hear from you 🙂