With a large shoe collection, it's so easy to forget what you have. And it can be even more difficult to find the best way to store them. Shoes can easily be damaged by dirt and dust, or rubbing up against each other. Storing them the right way will help keep them in the best condition.
But how can I best store my shoes?
For those favourite dress shoes that don't get worn every day, I like to use a clear stackable shoe box. This keeps them looking their best plus the boxes are stackable, so they make great use of shelf space. To be able to see what I have at a glance, I take photos of my shoes and stick the image to the front of the box. Having the picture of the shoe on an angle helps to see not only what is inside, but will determine the height and heel type of the shoe as well. Super helpful for getting ready and trying to find the best shoes to match my outfit!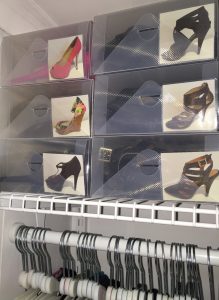 For the everyday type shoe, storing them on a shoe rack with one facing forwards and the other backwards, is the easiest way to see what the whole shoe looks like. The closest and easiest place to see and reach your shoes, should be where your everyday shoes are stored.
Too many shoes for your wardrobe?
Make sure you store the rest of your shoes in the way that they get used. For example, when winter boots or enclosed shoes are being used daily, then your summer sandals and thongs can be stored together, out of the way, till they are likely to be used.
Whatever size your shoe collection is, storing them back to front not only saves space but will save you time getting ready too! Save your money on by looking after the ones you have.
See you next time!
Mei x
For helpful tips, advice, humour and inspiration on getting organised, subscribe to my newsletter or follow me on social media – click on the links below.
How do your store your shoes? Send me a comment as I'd love to hear from you 🙂