Do you struggle to store your beautiful collection of scarves? Do you have them all hanging precariously on a coat hanger, all together, in an attempt to make it easier to see them? Have you tried to take your chosen scarf off while hurrying to get ready for the day… only to have them all fall out at the same time and make a mess all over the floor. Oh well, you will clean that mess up later – when you have time.
There are many benefits to using a scarf holder such as:
• Keeping them neat and tangle free
• Keeping them all together so they don't get lost at the back of your wardrobe
• Being able to access them easily without making a mess
• Being able to see what you have at a glance so you can quickly get ready
Scarf holders are inexpensive to buy and are well worth it if you struggle to keep your scarves organised. If you have a large collection of scarves then investing in a few scarf holders is a great option. This way you can store them in categories such as seasonal wear, fabrics or colours.
My go to product.
When doing my in home party demonstrations, I love showing the guests how to keep their wardrobes clutter free. My simple solution in my product range is the Zia Scarf Holder by InterDesign. Made from clear plastic and polished chrome and can hold up to 18 scarves on your hanging rail.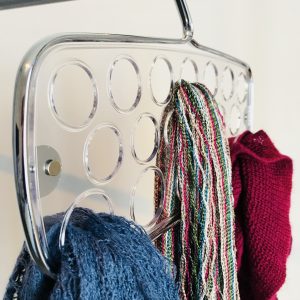 Save your time by being able to get ready quicker and easier. Save your money by keeping your scarves in great condition making them last longer.
Using a scarf holder to organise your scarves is one of those simple organised solutions you can do today!
See you next time,
Mei x
For helpful tips, advice, humour and inspiration on getting organised, subscribe to my newsletter or follow me on social media – click the links below.
Do you use a scarf holder in your home? If so then leave a comment as I'd love to hear from you 🙂