I must admit that cleaning the bathroom (and especially the shower) is my most loathed household chore. Cleaning the shower while you're in the shower doesn't leave you feeling very clean and the normal cleaning process can be quite messy. I've never really used harsh chemicals as my lungs and skin don't cope well so I've always tried to find alternatives. Having a hubby who used to clean windows for a living has made me almost a pro at keeping glass and mirrors streak free. There is no better feeling than having a sparkling clean bathroom! Those who squeegee love it and those who don't, think its the weirdest thing they've ever heard of. Hopefully I can convince you that a squeegee is the way to go.
Unsightly bathroom horrors!?
Streaky glass, splattered mirrors and soap scum are not just unsightly but the build up can be difficult to keep clean. The dreaded chore of cleaning the bathroom is an easy one to keep putting off until the tell tale signs of mould creep in telling you you've waited too long!
The simple squeegee solution.
I have a squeegee in each bathroom plus one in my cleaning caddy when doing my usual weekly routine. It's perfect for mirrors, glass splashbacks, glass tables and of course windows. Not only do I squeegee the shower screen after each shower but when I have time, I also do a quick wipe over of the wall and floor tiles too. This is a great way to keep the moisture level down in the bathroom.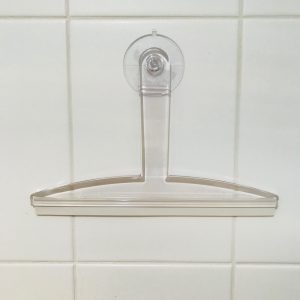 Before you think this is too time consuming, it actually only takes 10-15 seconds and goes a long way in keeping your bathroom clean. If you think about trying to scrub off the build up of dirt, grime, hard water marks and mould, then it just makes sense to spend mere seconds getting rid of alot of the source of these problems. I still clean my bathroom (or try to) every week. It's just in my routine now. But long gone are the days when I would be scrubbing hard in the shower… thankfully!
It's such a simple task that even my 10 year old does it!
See you next time!
Mei x
For helpful tips, advice, humour and inspiration on getting organised, subscribe to my newsletter or follow me on social media – click on the links below.
Do you use a shower squeegee? Send me a comment as I'd love to hear from you 🙂