Whether we like to admit it or not, we all have a drawer in our home that is overfilled with 'stuff'. I like to call this the 'Junk Drawer'. It's usually the place where those miscellaneous items that don't really have a home come to live… or die. And like any area with clutter, it also tends to breed, so before you know it you have a drawer that is barely able to be opened.
The biggest problem with having this area disorganised is the fact that they usually contain things like spare keys, batteries, scissors, torches and other handy items that we tend to need.
Don't get caught out!?
Imagine being caught out in the middle of a winter storm when the lights go out and you know there was a torch in there somewhere?? Or even worse, the batteries in your remote control are flat and you swear you had more… now you're frantically trying to remove batteries from your kids toys so you can enjoy some quiet time in front of the TV. Where is a Phillips head screwdriver to get to those batteries??
It's not that difficult to get organised.
You just need to know what items you are storing in there and then choose a suitable system so it never gets out of control again. The simple organised solution I follow is the SOS system:
SORT – you need to go through everything making sure you throw out any rubbish as you go and once the drawer is empty, it's time to give it a good clean.
ORDER – now that you have the things you want to keep, it's time to put the like items together and decide on the location to put them in. Regularly used items to the front with the rest towards the back.
STORE – lastly, it's time to make sure your items are stored right, so that they don't get out of control again, and can be easily accessed when needed. My favourite product is the Madesmart junk drawer organiser but any type of trays or basket will do. Anything really that acts as a divider to keep those items in place. Batteries work well in compartment boxes so they are all together and you can see what you have at a glance.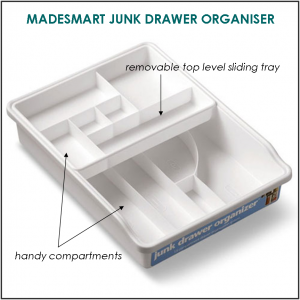 Any extra items that have a home somewhere else need to be put back while doing the sorting process. Double or triple handling items is a real time waster and being organised is about saving you time and your money!
See you next time!
Mei x
For helpful tips, advice, humour and inspiration on getting organised, subscribe to my newsletter or follow me on social media – click on the links below.
Do you have a junk drawer that is out of control? Send me a comment as Id love to hear from you 🙂