Do you know where you are spending your money? Do you feel that you have no control over your expenses? The answer to these problems is as simple as planning a budget.
I like to plan a budget every year. This means going through my bank statements for at least three months to see where my recent expenses are.
If you feel like your finances are out of control, then planning a budget is a must.
Collect your data.
It is really important to set up the correct templates of how to track your expenses. Then it's time to collect your data. While going through your bank statements, jot down your expenses and payments – some example categories are listed below. Work on a month at a time and then average these figures over a three month period.
• Mortgage/Rent
• Personal Loans
• Credit Cards
• Insurance – home, car, health, life, income protection
• Rates – water, shire
• Dept Transport – vehicle registration, drivers license
• Utilities – gas, electricity, home phone, mobile phone, pay TV, internet
• School/University Fees
• Groceries
• Clothing
• Entertainment
• Vehicle Misc – repairs, petrol, parking
• Other – gifts, clothing, holidays
Set it up right.
I like to use an excel spreadsheet to keep track of all the data. For those that need more than an average monthly spend, making note of which month your quarterly or bi annual payments (like rates or car rego) are due, will make it more accurate. This helps you know which months will be high in expenses so you can plan for them.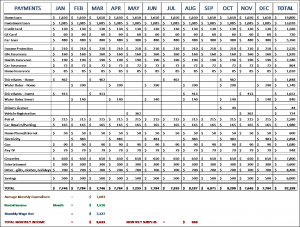 By setting up your template correctly, you can create tabs for each year as your budget changes – the hard part has already been done.
Analyse the data to find ways to save.
With the fast paced lifestyles we all lead, it is so easy to lose track of where your money is going. Until I recently did this year's budget, I didn't realise how much money was being spent on dining and entertainment. This was a simple way to cut down on our expenses. Groceries is another high expense with most people – and meal planning is one of the simplest ways to reduce not only your spending, but saves you time and food wastage as well. Check out my blog post on How Meal Planning Can Help You.
Switching off lights to save electricity, reduce your water usage by taking shorter showers – these not only save money but help the environment too.
The biggest benefit to planning your budget is the sense of control you will have. By being able to reduce expenses, savings are able to be made. Having money saved for a rainy day will help with your stress levels too. Why not start a separate savings plan for a family holiday? Or that very special item you've had your eye on for a while.
See you next time!
Mei x
For helpful tips, advice, humour and inspiration on getting organised, subscribe to my newsletter or follow me on social media – click on the links below.
Do you follow a budget or are your finances out of control? Send me a comment as I'd love to hear from you :)